New Book by Sonali Kolhatkar
Sonali Kolhatkar's new book, Rising Up: The Power of Narrative in Pursuing Racial Justice will be published by City Lights books on June 27, 2023. Available now for pre-order. Foreword by Rinku Sen.
Overview
Rising Up offers a timely exploration of how truthful narratives by and about people of color can be used to advance social justice in the United States.
While people of color are fast becoming the majority population in the United States, the perspectives of white American still dominate the vast majority of the media created and consumed every day. Media makers of color, long shut out of the decision-making process, are rising up to advance a set of different narratives, offering stories and perspectives to counter the racism and disinformation that have long dominated America's political and cultural landscape.
In Rising Up, award-winning journalist Sonali Kolhatkar delivers a guide to racial justice narrative-setting. With a focus on shifting perspectives in news media, entertainment, and individual discourse, she highlights the writers, creators, educators, and influencers who are successfully building a culture of affirmation and inclusion.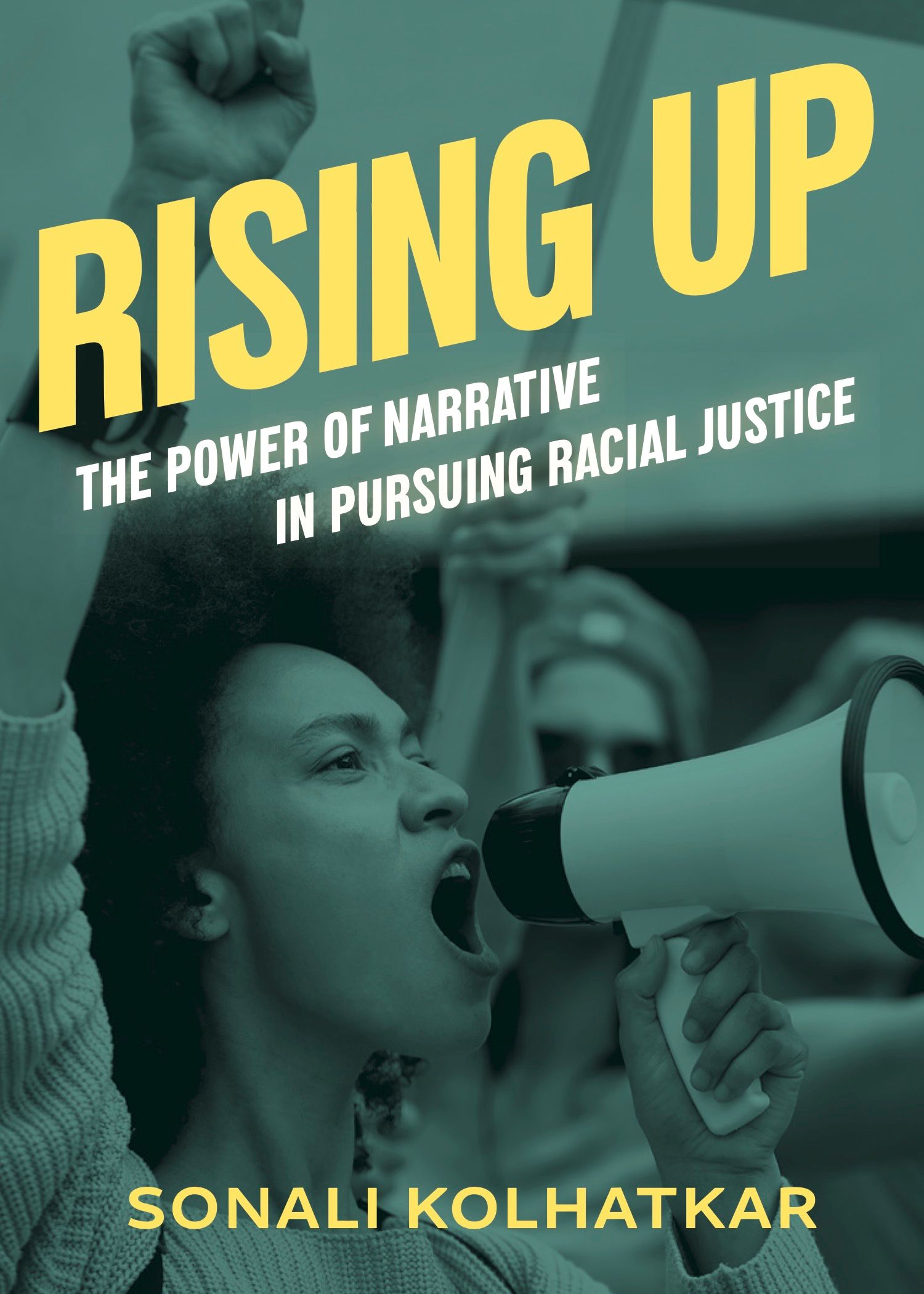 "Sonali Kolhatkar reminds us we are the stories we tell. Our stories can cast a spell of hate, division, and fear, or they can break the powerful grip of racial injustices that have held us since our country's beginning. With personal and collective wisdom, Kolhatkar guides us in the storytelling that liberates."–Luis J. Rodríguez, author of Always Running: La Vida Loco/Gang Days in L.A.
"Rising Up challenges the reader to not only rethink their assumptions, but to understand the critical importance of the creation of progressive narratives as an instrument in the struggles for human liberation."–Bill Fletcher, Jr., author of The Man Who Fell From the Sky
"Prometheus transferred fire away from gods to mortals, but this book shows that we don't need a Prometheus. We transfer narrative power from the few to the many–by claiming it and using it–in revolutionary acts that both catalyze the national consciousness and transform material conditions." –Rinku Sen, Executive Director of Narratives Initiative, and author of The Accidental American: Immigration and Citizenship in the Age of Globalization
"For two decades, Sonali Kolhatkar has been a leading voice for truth against the lies of the powerful, unflinchingly exploding prevailing myths that pass as prevailing wisdom. She understands that shifting the narrative is radical anti-racist work, and if you don't believe it just look at the firing of schoolteachers and journalists for telling the truth about racism, slavery, gender, or Palestine."–Robin D. G. Kelley, author of Freedom Dreams: The Black Radical Imagination
"Like her groundbreaking journalism, Sonali Kolhatkar's inaugural book spotlights voices across various news, entertainment, and social-media platforms that exemplify movement building for racial justice through troubling narratives. This book could not come at a better time–let's all read, discuss, and act on it today!"–Kevin Kumashiro, Ph.D., author of Surrendered: Why Progressives are Losing the Biggest Battles in Education
"A brilliantly outlined argument for independent media's historic role in humanizing those who have been othered through the society's architectures of power, Rising Up highlights the crucial role of courageous storytelling in combating white supremacy and building a more just world."–Rupa Marya, co-author of Inflamed: Deep Medicine and the Anatomy of Injustice
"Foundational and guiding, Sonali's book gifts us a piercing map of the dangers of illegitimate stories, as well as a guide towards the unrelenting power of truthful ones. This book I had been waiting for, and it is here to make its stay. Read it. Share it. And we shall surely rise."–Dr. Oriel María Siu, PhD, author of Christopher the Ogre Cologre, It's Over!
"Written in the thick of a new phase of reactionary cultural warfare within and beyond the United States, Rising Up provides diagnosis, context, and potential correctives. Contrary to common parlance, Sonali's work demonstrates that there is no such thing as "the media," only a disparate ensemble of competing narrative forces that consolidate in corporate news, Hollywood entertainment, independent grassroots journalism, and industrialized social media. Conceptualizing the terrain of storytelling as a dynamic, complex one that is constantly open to new forms of radical, autonomous, collective mobilization, Rising Up is a reinvigorated call for journalism, art, and aesthetics that advance abolitionist, decolonizing, and anti-racist movements."–Dylan Rodríguez, author of White Reconstruction: Domestic Warfare and the Logic of Racial Genocide
Praise for Sonali Kolhatkar:
"Kolhatkar's conversations with guests go deep. Even when she's covering topics everyone else is covering–like impeachment–she infuses the discussion with economic, social, and racial justice perspectives that reframe and expand the debate."–John Nichols on the "Top Progressive People and Ideas Shaping the Future," The Nation