New Book by Sonali Kolhatkar
Sonali Kolhatkar's new book, Rising Up: The Power of Narrative in Pursuing Racial Justice will be published by City Lights books on June 27, 2023. Foreword by Rinku Sen.
Overview
Rising Up offers a timely exploration of how truthful narratives by and about people of color can be used to advance social justice in the United States.
While people of color are fast becoming the majority population in the United States, the perspectives of white American still dominate the vast majority of the media created and consumed every day. Media makers of color, long shut out of the decision-making process, are rising up to advance a set of different narratives, offering stories and perspectives to counter the racism and disinformation that have long dominated America's political and cultural landscape.
In Rising Up, award-winning journalist Sonali Kolhatkar delivers a guide to racial justice narrative-setting. With a focus on shifting perspectives in news media, entertainment, and individual discourse, she highlights the writers, creators, educators, and influencers who are successfully building a culture of affirmation and inclusion.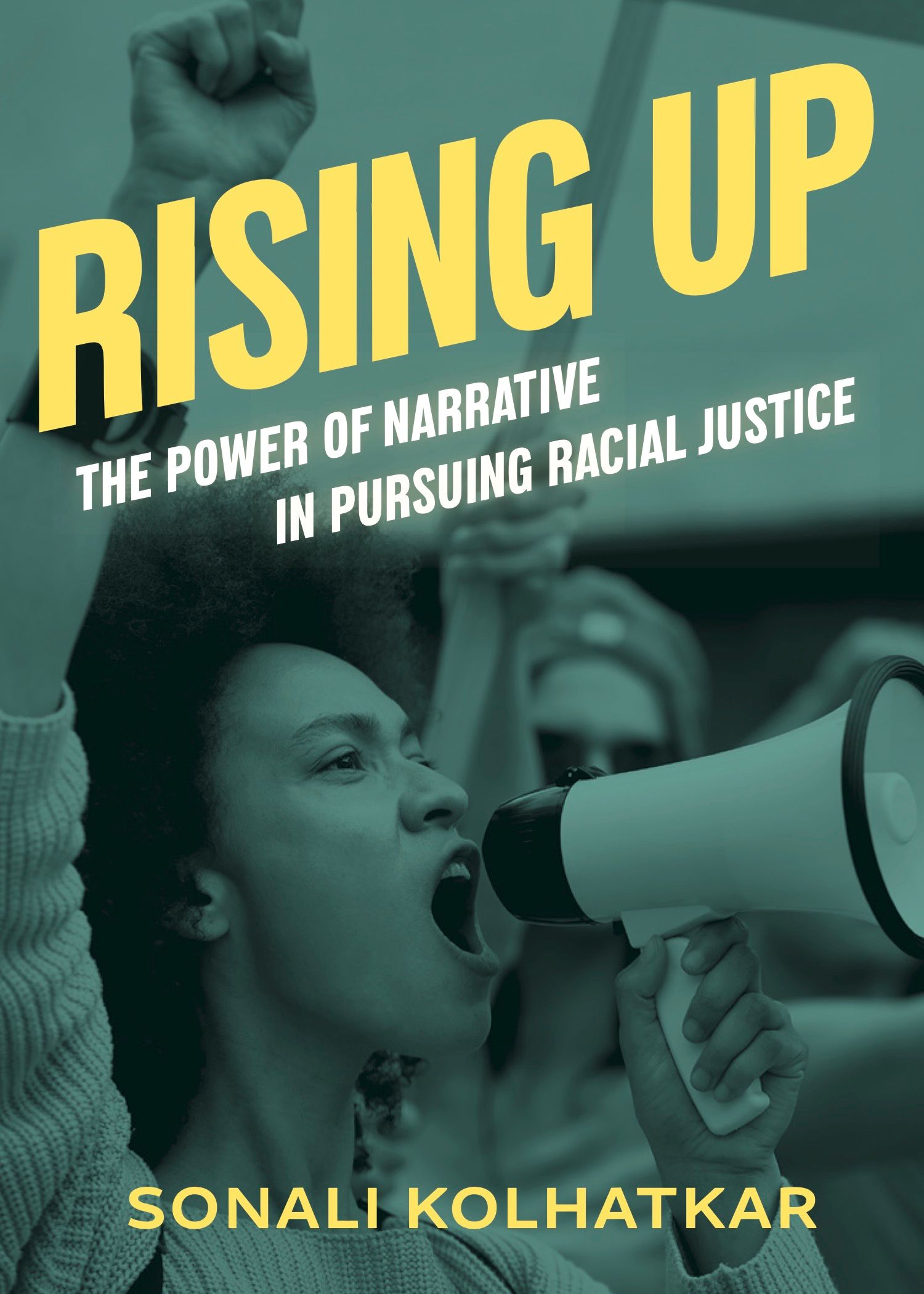 BOOK TOUR:
BERKELEY, CA
Wednesday, June 28, 2023 at 6:30pm PT (In-Person)
Book Launch for Rising Up, hosted in partnership with KPFA and the Berkeley Public Library!
In conversation with Davey D.
Click here for more info.
VIRTUAL EVENT
Friday June 30, 2023, 7:30 - 9:30 am PT (Virtual)
In conversation with Steve Rodhe for Interfaith Communities United for Justice and Peace (ICUJP).
Click here for more info and to RSVP
Watch the archived conversation here.
LOS ANGELES, CA
Thursday, July 13, 2023 at 7pm PT (In-Person)
In conversation with Jody Armour at Skylight Books in Los Angeles, CA.
Click here for more info.
PASADENA, CA
Wednesday, July 19, 2023 at 7pm PT (In-Person)
In conversation with Luis J. Rodríguez at Vroman's Bookstore in Pasadena, CA.
Click here for more info.
LOS ANGELES, CA
Tuesday, July 25, 2023 at 7pm PT (In-Person)
In conversation with Dylan Rodriguez at North Figueroa Bookshop in Los Angeles, CA.
Click here for more info.
VIRTUAL EVENT
Wednesday July 26, 2023 at 4:15pm PT (Virtual)
The Political Mandate of the Arts, Organized by the Wende Museum, the Thomas Mann House, and dublab radio.
Click here for more info.
Portland, OR
Monday August 7, 2023, at 7 pm PT (In-Person)
At Powell's Books, 1005 W. Burnside St., Portland.
Click here for more info
Click here to listen to KBOO's live broadcast of the event.
LOS ANGELES, CA
Thursday, August 17, 2023 at 6 pm PT (In-Person)
In conversation with Robin D. G. Kelley, Village Well Books & Coffee in Culver City, CA. Note: This event is a fundraiser for Volunteer Collective.
Click here for more info and click here to purchase tickets.
SEATTLE, WA
Wednesday, Sept 6, 2023 at 7:30pm PT (In-Person)
YES! Media presents: Sonali Kolhatkar in conversation with Sunnivie Brydum at Seattle Town Hall in Seattle, WA.
Click here to purchase tickets.
Houston, TX
Wednesday October 4, 2023, at 6:30 pm CT (In Person)
In conversation with Rinku Sen at Basket Books, 115 Hyde Park Blvd in Houston.
Click here for more info.
New Paltz, New York
Thursday October 19, 2023 (In Person)
Sonali will be the featured speaker at SUNY New Paltz's Distinguished Speaker Series.
Click here for details and to reserve tickets.
New York City, NY
Friday October 20, 2023 (In Person) - CANCELLED IN SOLIDARITY WITH GLOBAL STRIKE FOR PALESTINE
Workshop on Racial Justice Narratives at Recirculation, a project of Word Up Community Bookshop, 876 Riverside Drive (near 160th St.) in Washington Heights, NYC.
Click here for more details and to reserve your seat.
San Francisco, CA
Sunday December 3, 2023 (In Person)
Against Amnesia: The 2023 Howard Zinn Book Fair
To invite Sonali to your local bookstore, campus, community center, church, etc, please contact us.
REVIEWS:
Kirkus Review: How to fight for justice through storytelling.
Journalist and activist Kolhatkar, host and producer of the Pacifica Radio show "Rising Up," argues persuasively for the necessity of "narrative-shifting" in order "to change public consciousness to the degree necessary for society to achieve justice." While she applauds efforts to promote inclusivity and diversity in employment, communities, and schools, she sees justice at the heart of her distinction between equality and equity. "Equality for Black people means removing official barriers to home-ownership, education, health care, and more," she asserts. "But equity for Black people means reparations to compensate for centuries of enslavement, oppression, Jim Crow segregation, and ongoing systemic racism so that home ownership, quality education, and health care are actually within reach. Equality ignores the past. Equity addresses historical injustice." According to Kolhatkar, reforms that can lead to equity must be grounded in revised narratives from news media, film, TV, and social media, all of which—even those purporting to be liberal—are dominated by White voices. Newsrooms in major publications, she has found, are mostly White, as are individuals who critique journalism's problems; therefore, these critics fail to notice "that white domination is a serious problem." Likewise, the White-dominated film and TV industries perpetuate "ugly and reductive narratives" about people of color and present images of police that "are in line with white reality and at odds with what people of color experience." Both independent media and young filmmakers of color—such as Ava DuVernay—offer crucial new perspectives. Kolhatkar praises the rise of Black Twitter, "an organic collection of the unfiltered opinions of Black Americans on any number of topics, big and small, that has the unique ability to create trends." Powerful forces for narrative-shifting, she asserts, include courses such as ethnic studies and critical race theory as well as one-on-one discourse: conversations that encourage "actively taking the perspective of others."
A thoughtful prescription for social change.
---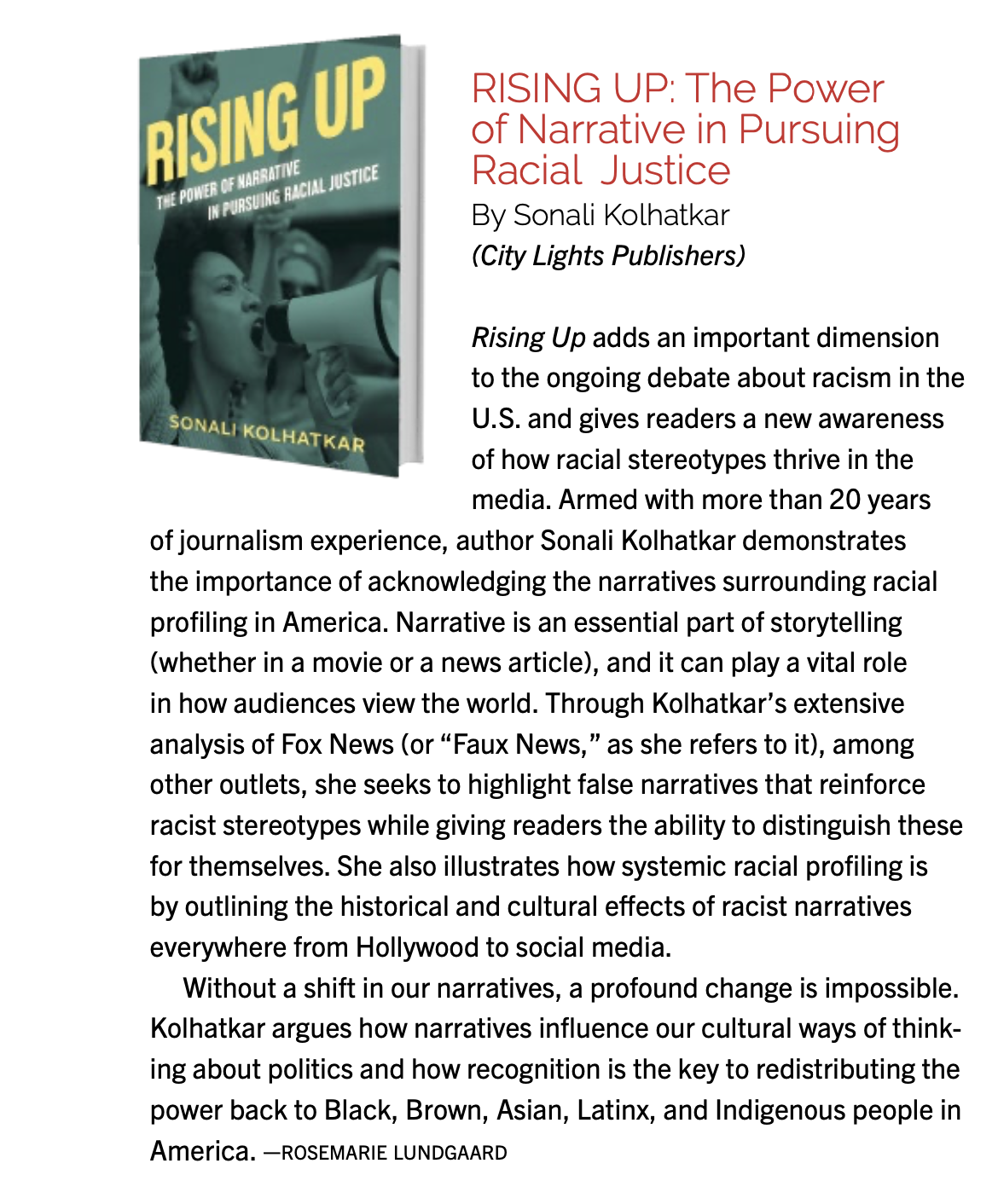 ---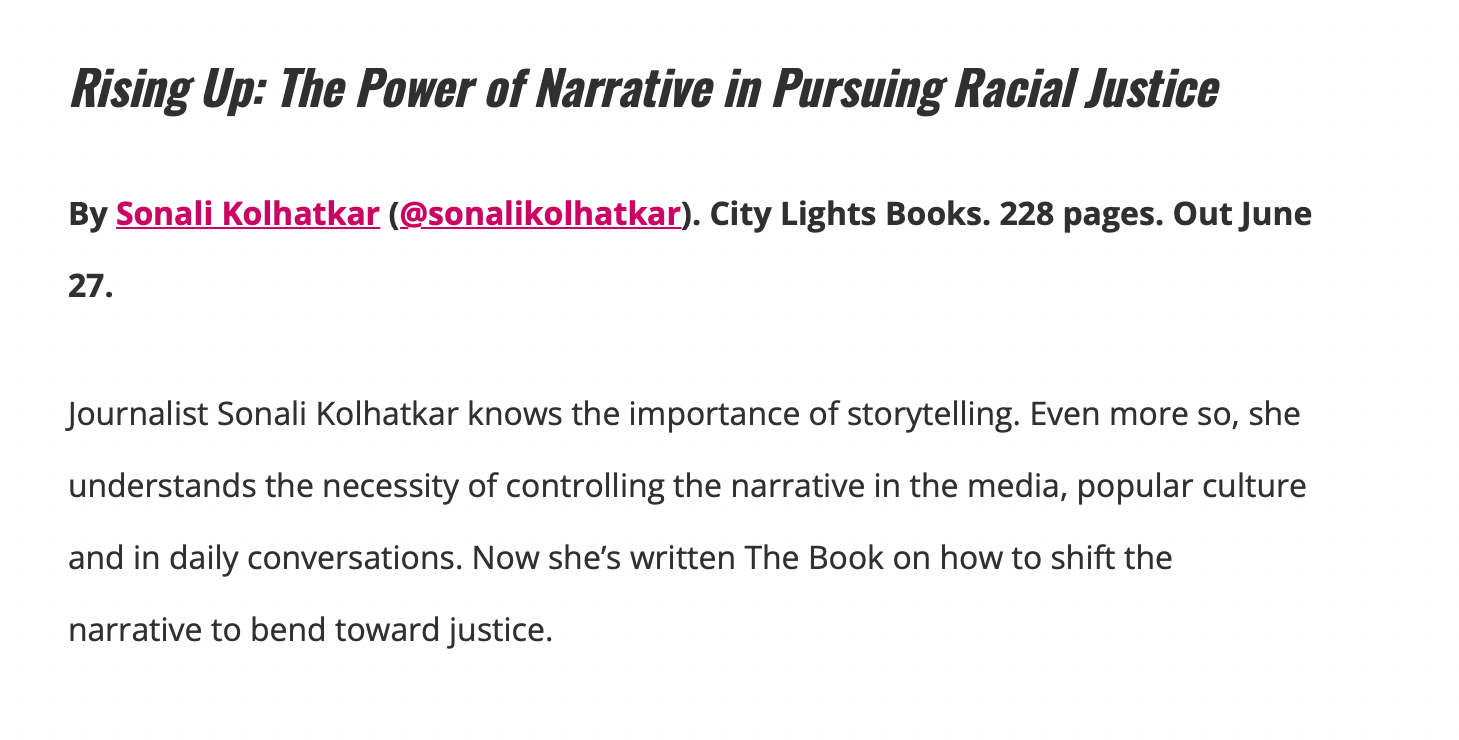 ---
Bay City News Foundation: "Sonali Kolhatkar's book 'Rising Up' corrects false narratives about race," Denise Sullivan, 06/22/23
Sonali Kolhatkar speaks on matters of racial justice and the media with the authority of a scholar and experienced broadcast journalist, but even the host of Pacifica Radio's "Rising Up With Sonali" finds certain discussions concerning race in America to be daunting.

"Those dinner table conversations are absolutely the hardest ones. I have extended family members who are white and I don't always know how to talk about these issues. It's one of the reasons I wanted to write this book," says Kolhatkar, whose program airs in the Bay Area at 3 p.m. Fridays on KPFA.
The book, "Rising Up: The Power of Narrative in Pursuing Racial Justice," casts a critical eye on racist news sources, Hollywood's output and social media while offering alternatives to poisonous false narratives penetrating the big and small screen.
---
BeyondChron, "New Book Touts Power of Racial Narratives," Randy Shaw, 06/26/23
Social and racial justice advocates have always faced the challenge of building support amidst a media environment hostile to progressive change. The rise of social media created opportunities by eliminating news gatekeepers, but navigating social media venues such as the now Elon Musk-owned Twitter has its own hurdles.
Sonali Kolhatkar spent years covering the news for Pacifica radio. She knows the challenges faced by social and racial justice movements. She offers a keen understanding of the media environment in her insightful new book, Rising Up: The Power of Narrative in Pursuing Racial Justice.
The Power of Narratives
Kolhatkar's core argument is that racial justice campaigns can effectively use narratives to broaden support.This is more imperative than ever, since "after Trump racial issues are no longer seen as separate from other issues." Despite this shift, mainstream media "continues to charge those with 'bias' if they charge someone with racism." This is the complex environment racial justice advocates encounter and the core subject of the book.
Kolhatkar's sees these narratives as taking diverse forms, ranging from Black Twitter to deep canvassing via door to door discussions. Narratives enable racial justice movements to avoid depending on mainstream media to frame their issues.
---
International Examiner, "Sonali Kolhatkar has a story to tell and she tells it well," Nalini Iyer, 08/24/23
Rising Up is a slender book in which Sonali Kolhatkar succinctly makes the argument that stories have the power to make social change.
She begins by outlining how people of color encounter racism in everyday life by sharing an experience she had at a grocery store with an angry white man who accused her of "driving like an Asian" as she was pushing her 4-year-old around the store in a cart. This powerful opening narrative demonstrates how often people of color deal with racism while going about their everyday lives.
Kolhatkar is known for her weekly TV and radio show Rising Up with Sonali and she also serves as racial justice editor for Yes! Magazine. This book grew out of her journalistic work and nearly two decades of material that she's collected on social movements.
---
The Hindu, "Review of Sonali Kolhatkar's Rising Up — The Power of Narrative in Pursuing Racial Justice: We are the stories we tell," by Shelley Walia, 09/08/23.
The killing of George Floyd sparked the overwhelming desire to stop the onward rush of blatant racism. Kolhatkar joins the call for the power of the narrative to demonstrate its exacting responsibility in creating, in the words of Pete Seeger, "The right song at the right time which would change history." The poet Agha Shahid Ali seeks a world without borders and reprimands the authoritarian government, "My memory is again in the way of your history."
INTERVIEWS:
PRAISE:
"For two decades, Sonali Kolhatkar has been a leading voice for truth against the lies of the powerful, unflinchingly exploding prevailing myths that pass as prevailing wisdom. She understands that shifting the narrative is radical anti-racist work, and if you don't believe it just look at the firing of schoolteachers and journalists for telling the truth about racism, slavery, gender, or Palestine."–Robin D. G. Kelley, author of Freedom Dreams: The Black Radical Imagination
"Sonali Kolhatkar reminds us we are the stories we tell. Our stories can cast a spell of hate, division, and fear, or they can break the powerful grip of racial injustices that have held us since our country's beginning. With personal and collective wisdom, Kolhatkar guides us in the storytelling that liberates."–Luis J. Rodríguez, author of Always Running: La Vida Loco/Gang Days in L.A.
"Rising Up challenges the reader to not only rethink their assumptions, but to understand the critical importance of the creation of progressive narratives as an instrument in the struggles for human liberation."–Bill Fletcher, Jr., author of The Man Who Fell From the Sky
"Prometheus transferred fire away from gods to mortals, but this book shows that we don't need a Prometheus. We transfer narrative power from the few to the many–by claiming it and using it–in revolutionary acts that both catalyze the national consciousness and transform material conditions." –Rinku Sen, Executive Director of Narratives Initiative, and author of The Accidental American: Immigration and Citizenship in the Age of Globalization
"Like her groundbreaking journalism, Sonali Kolhatkar's inaugural book spotlights voices across various news, entertainment, and social-media platforms that exemplify movement building for racial justice through troubling narratives. This book could not come at a better time–let's all read, discuss, and act on it today!"–Kevin Kumashiro, Ph.D., author of Surrendered: Why Progressives are Losing the Biggest Battles in Education
"A brilliantly outlined argument for independent media's historic role in humanizing those who have been othered through the society's architectures of power, Rising Up highlights the crucial role of courageous storytelling in combating white supremacy and building a more just world."–Rupa Marya, co-author of Inflamed: Deep Medicine and the Anatomy of Injustice
"Foundational and guiding, Sonali's book gifts us a piercing map of the dangers of illegitimate stories, as well as a guide towards the unrelenting power of truthful ones. This book I had been waiting for, and it is here to make its stay. Read it. Share it. And we shall surely rise."–Dr. Oriel María Siu, PhD, author of Christopher the Ogre Cologre, It's Over!
"Written in the thick of a new phase of reactionary cultural warfare within and beyond the United States, Rising Up provides diagnosis, context, and potential correctives. Contrary to common parlance, Sonali's work demonstrates that there is no such thing as "the media," only a disparate ensemble of competing narrative forces that consolidate in corporate news, Hollywood entertainment, independent grassroots journalism, and industrialized social media. Conceptualizing the terrain of storytelling as a dynamic, complex one that is constantly open to new forms of radical, autonomous, collective mobilization, Rising Up is a reinvigorated call for journalism, art, and aesthetics that advance abolitionist, decolonizing, and anti-racist movements."–Dylan Rodríguez, author of White Reconstruction: Domestic Warfare and the Logic of Racial Genocide
Praise for Sonali Kolhatkar:
"Kolhatkar's conversations with guests go deep. Even when she's covering topics everyone else is covering–like impeachment–she infuses the discussion with economic, social, and racial justice perspectives that reframe and expand the debate."–John Nichols on the "Top Progressive People and Ideas Shaping the Future," The Nation
---
Read an excerpt from Rising Up: As Corporate Media Fails, Will Independent Media Rise Up?
Right-wing media outlets such as Fox News have long pushed racist narratives to further their goals. And, outlets like the New York Times—the so-called "liberal media"—do too little, too late, to push back; it falls to the ranks of independent media outlets to create and promote counternarratives based on racial justice.
This is not a new phenomenon. Pacifica Radio, where I spent nearly two decades as a radio programmer, houses in its archive a rich library of recordings of civil rights leaders who are considered iconic heroes today, but who, during their lifetimes, were generally ignored or even vilified by the establishment press.
From talks by Dr. Martin Luther King Jr. and Rosa Parks to James Baldwin and Angela Davis, and almost everyone in between, Pacifica Radio's journalists painstakingly recorded speeches and interviews featuring movement leaders and activists of color considered too controversial for the white-dominated press. Meanwhile, their mainstream counterparts only found the courage to do the same decades later, after society had concluded that the Black Freedom movement was on the right side of history.
Read the full excerpt at LAProgressive.org.
---
Read an excerpt from Rising Up: Narrative Power: How Black and Brown Filmmakers are Infiltrating Hollywood
The narratives around race that television and film produce influence how Americans perceive and relate to one another. But just as our screens can foster narratives that reinforce racial hierarchies, they can also be used to promote ones that dissolve them. We can, and should, think of television and movies as useful tools for narrative work and consciousness-shifting on a mass scale.
What's heartening is that that Black, Brown, and Indigenous creators are increasingly pushing their way into Hollywood in ways that are slowly, but surely, changing our culture.
Read the full excerpt at Truthdig.com.
---
Read an excerpt from Rising Up: How to Build Solidarity Across Difference
The visionary writer and activist James Baldwin once said, "We can disagree and still love each other, unless your disagreement is rooted in my oppression and denial of my humanity and right to exist." I have often thought about this powerful sentiment and worn it as an armor to protect myself from racial trauma. But I come back again and again—perhaps because of an unfortunate optimism—to the idea that we can't give up on millions of people as hopelessly lost to racist narratives.
"Conflict is a part of life," says Nolan Higdon, a lecturer at Merrill College and in the education department at University of California, Santa Cruz. Higdon, who is an expert on digital culture, co-wrote a book with Mickey Huff called Let's Agree to Disagree: A Critical Thinking Guide to Communication, Conflict Management, and Critical Media Literacy.
"Conflict, when addressed correctly, can be constructive," says Higdon. "We know there are these hateful ideologies out there." He adds, "We're not asking people to get comfortable with a white supremacist" and their views. What he and Huff are advocating for instead is to take a "solutions-oriented" approach to conflict. "In a democracy, typically, the best ideas win the day when we engage in dialogue and try and change minds."
Read the full excerpt at YesMagazine.org.